Mladi, ali ambiciozni stručnjak posložio kockice u federalnom prvoligašu
Nakon što su svi bh. sportski portali krajem aprila 2018. sa čuđenjem prenijeli vijest da je predsjednik nogometnog kluba postao trener seniorske ekipe, malo ko je bio svjestan da to u Tešnju nije ništa neobično.
Oni koji poznaju Ajdina Mrgudu pozdravili su tu odluku aludirajući da se to trebalo desiti i puno ranije. U komšijskom Borcu iz Jelaha, predsjednik Subašić je obnašao funkciju trenera u nekoliko navrata.
Ipak, Mrguda sebe dugoročno vidi kao trenera i namjerava završiti još UEFA PRO licencu koja mu nedostaje. Mrguda je bivši student Fakulteta sporta i tjelesnog odgoja u Sarajevu, dobitnik priznanja Sportski radnik Ze-do kantona i već je vodio NK TOŠK sa klupe. Kako su to naveli iz kluba objašnjavajući tada imenovanje Ajdina za trenera seniorske ekipe:"…autoritet, dobra komunikacija i poznavanje ekipe i lige…", objašnjavalo je želju kluba da se na najbolji način iskoriste znanja i vještine ovog ambicioznog fudbalskog stručnjaka. I ma koliko bilo neobično i rizično da pokvari svoju dobru reputaciju, u trenucima kada se klub grčevito borio za opstanak i kada je rezultatski postajalo sve izvjesnije da klub neće izboriti opstanak, on se upustio u taj izazov. Kada je TOŠK u pitanju, nije bilo kalkulacija.
"Vjerujemo kako Ajdin Mrguda može donijeti potrebnu psihološku prevagu u svlačionici i izvući iz ekipe maksimum, a isto tako smatramo i kako će ova odluka naići na podršku onih najbližih radu kluba, navijača i prijatelja kluba.", rečeno je iz NK TOŠK.
Ekipa se nalazila u zoni ispadanja sa 21 ostvarenim bodom. 2009. ga je na mjesto trenera pionira imenovao Nihad Alić, član Željine šampionske generacije iz 2001./2002., u to vrijeme koordinator omladinskog pogona TOŠK-a. Tada Ajdin kreće u UEFA programe licenciranja trenera pri N/FS BiH. Promjene u rukovodstvu kluba 2010. donose i promjene trenera, pa Alić kao šef struke imenuje Mrgudu za svog pomoćnika i trenera juniora. TOŠK se u to vrijeme takmičio u Drugoj ligi FbiH, trećem rangu bh. takmičenja.
Nakon Alića, pa Vejzović Nusreta, na klupu TOŠK-a dolazi Nikola Nikić sa kojim TOŠK cilja na ulazak u Prvu ligu FBIH u sezoni 2011/2012. Za svog pomoćnika, Nikić bira Mrgudu. Šest mjeseci nakon dolaska Nikola Nikić razišao se sa TOŠK-om. Mjesto šefa struke preuzima dotadašnji pomoćnik, Mrguda Ajdin, i to u teškom finansijskom stanju iako se klub nalazio na 2. mjestu na kraju jesenjeg dijela sezone Druge lige FBiH. Njegov prvi angažman kao šefa struke. Na kraju te sezone, Mrguda daje ostavku na mjesto šefa struke kluba, jer iako se kako je naveo tada "najjeftiniji igrački i stručni kadar u povijesti TOŠK-a" nalazio pri vrhu tabele, uprava kluba je bila nepostojana, kao i podrška seniorima, a ovu odluku je donio kako bi skrenuo pažnju na to. Zbog neisplaćenih plata, igrači su krenuli u štrajk do kraja te sezone.
Prazne tribine, neaktivno rukovodstvo, neulaganje u igrački kadar i TOŠK se u toku sezone 2012./13. nalazio na drugom mjestu na tabeli, ovoga puta, gledajući odozdo. TOŠK vraća Ajdina Mrgudu na mjesto šefa stručnog štaba i on uspjeva spasiti ekipu od ispadanja u kantonalni rang takmičenja. U sezonu 2013./14. TOŠK ulazi sa nešto stabilnijim igračkim i upravljačkim kadrom kluba. Tokom cijele sezone borili su se sa Goraždem za vrh tabele što im je na kraju sezone zamalo izmaklo, zbog čega iz moralnih razloga i neispunjenja ciljeva Ajdin Mrguda i njegov pomoćnik Vernes Karagić podnose ostavke.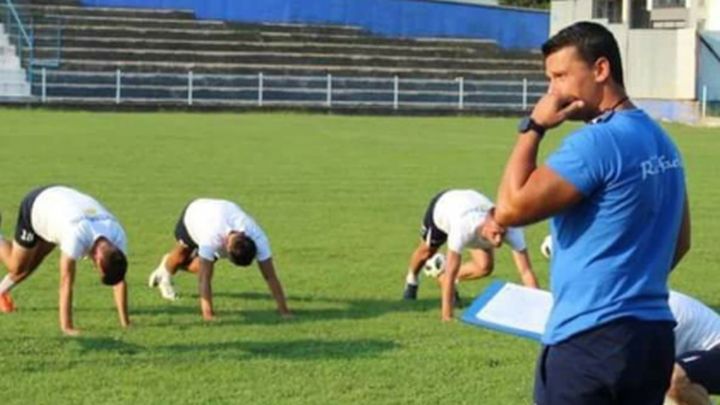 Iako je sebi čvrsto obećao da će odmoriti od TOŠK-a neko vrijeme zbog stresnih i turbulentnih vremena provedenih u klubu, u klub se vraća u funkciji potpredsjednika u ljeto 2016. godine na nagovor Edina Šaranovića, tadašnjeg predsjednika kluba. Ambicije kluba ostale su još uvijek iste: povratak u Prvu ligu FBIH. Trener ekipe postao je Remetić Igor, bivši igrač Veleža, igrački kadar je bio jak, međutim finansijski rashodi prevazišli su planirane finansijske prihode i klub se opet kao i puno puta ranije već na polusezoni našao u finansijskim problemima iako prvi na tabeli. Edin Šaranović napušta klub. Međutim, ovaj put u Upravi TOŠK-a su potpuno nova lica sa kojima Mrguda nije do sada sarađivao u svojim prethodnim mandatima rada u klubu. Mladi momci, simpatizeri i navijači kluba u rukovodstvenim ulogama na mjestima članova uprave i sekretara. Inspirisan entuzijazmom i promjenom klime u klubu, preuzima uloga lidera i predsjednika i sa ovom upravom radi na popravljanju finansijske situacije kako bi nastavili zacrtanim putem.
U sezoni 2016./2017. TOŠK konačno postaje prvak Druge lige FBiH i ostvaruje direktan plasman u Prvu ligu Federacije BiH nakon 10 godina izbivanja i to na svoj 90. rođendan postojanja. Nije bilo puno prostora za opuštanje i slavlje, jer poznavajući situaciju i atmosfere u kojima su radili dotadašnji treneri u TOŠK-u, brzo su se okrenuli pravljenju ekipe za narednu sezonu. Igor Remetić uživao je veliku podršku u predsjedniku Ajdinu Mrgudi. U sezonu Prve lige TOŠK ulazi nešto sporije, a Igor Remetić daje ostavku aludirajući da će promjena trenera prodrmati amosferu u svlačionici kako bi se rezultati poboljšali, pa su se na najkorektniji mogući način rastali sa Remetićem. Kratkotrajno je ekipu vodio tuzlanski stručnjak Denis Sadiković, a onda još kraće Fuad Grbešić. Do kraja sezone je ostalo još 7 kola, a TOŠK je u prethodna 23 promjenio već 3 trenera. Opcija je sve manje, vremena je sve manje i šanse za opstankom bivale su sve manje.
Na molbu Uprave, Mrguda je preuzeo užareno mjesto šefa struke i to 7 dana pred derbi začelja sa bihaćkim Jedinstvom. Nakon dva vezana remija protiv Jedinstva i Olimpika i povoljnih ostalih rezultata, stvaran se snažan zaokret u Tešnju. Podrška na tribinama je nikad veća, Tešanj prepoznaje napore svoje omladine, a hiljade navijača hrle na domaće utakmice da podrže posljednje napore da TOŠK ostane u Prvoj ligi. Svjesni napora i turbulentnih vremena koja su trajala 10 godina kako bi se TOŠK opet vratio u Prvu ligu, Tešnjaci odlučuju sinergično dati podršku klubu. Ajdin Mrguda ostvaruje 17 bodova u posljednjih 7 utakmica, a TOŠK uspjeva ono što nije prije dugo vremena – preživio je godinu dana u višem rangu. Sada već stabilan prvoligaš sa stabilnim finansijama privukao je tešanjske privrednike u rukovodstvo kluba. Ajdin Mrguda zadobio je njihovo povjerenje i vodit će ekipu TOŠK-a u možda i najuspješnijem poslijeratnom periodu.
Ajdin Mrguda je tridesettrogodišnji (33) nogometni ambiciozni stručnjak. Iza njega je iskustvo rukovođenja sportskim kolektivom u najtežim i najblistavijim trenucima. Nagrađivan je za Sportskog radnika Općine Tešanj i Sportskog radnika Zeničko-dobojskog kantona. Ne krije želju da se jednog dana okuša u Premijer ligi. Možda Premijer liga BiH treba ovakve, mlađe trenere sa drugačijim pogledom na fudbal. Možda Premijer liga treba Mrgudu i slične jednako koliko i oni nju.
sportsport.ba